6Magazine's Dope 25 College Football Previews: #18 Clemson Tigers
August 9, 2012
by: The Starting QB, CJ Oates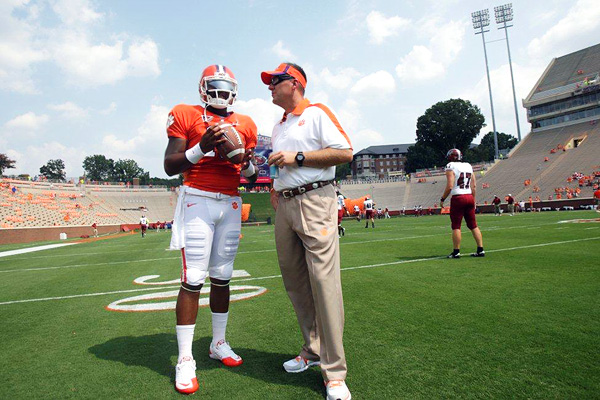 The Clemson Tigers are coming off an unexpected season in 2011 in which the Tigers went 10-4. Thanks to Dabo Swinney and his 2011 recruiting class, the Tigers went on to win an ACC title and an Orange Bowl.  This is great compared to the 2010 season when they went just 6-7 and were calling for Dabo's head. If you look closer though besides that ACC title, Clemson did not finish the season at the same 8-0 level that they started it on.
Clemson does brings back one of the most complete offense in the nation led by Tajh Boyd. When I say complete offense that may be understated. Besides Southern Cal, Clemson may have the best offensive weapons for a quarterback. Boyd gets to play pitch and catch with running back Andre Ellington and wide receivers Sammy Watkins and DeAndre Hopkins. Another thing that is scary about the offense is offensive coordinator Chad Morris. Morris is a disciple of the great offensive mind Gus Malzahn and now he is in his second season at Clemson. They should shred through defenses this season pending the offensive line. Up front, Clemson has to replace both offensive tackles and a guard. If games are won and lost on the line of scrimmage, the Tigers won't repeat as ACC Champions.
I don't know exactly how to break down Tigers defense anymore than West Virginia has already done. Okay, bad joke but giving up 70 points in one game is enough to know that the defense has a lot to improve on. The only good thing about their defense is they have brought in a well-respected defensive coordinator in Brent Venables. He will be in charge over a unit that was far worse than it should have been last season. The Tigers did lose the core of their defensive line. For Clemson to really make a push, the defense as a whole has to be better than it was last season. A positive about their defense is their linebackers and secondary offer plenty of depth, talent, and potential.
Do I think this is the year Clemson finally breaks through as a true Top 10-caliber team? On paper, I would say yes, especially with a favorable schedule. The Tigers get the Gamecocks, the Wolfpack, and Hokies at home. As of today, I would have to say no because they are an ACC team and history shows that they do not favor well. This team does have the ability to repeat as ACC champs and potentially push for a BCS Championship. But the 2012-13 Clemson Tigers has to prove that it can show mental toughness down the stretch and in close games. I do hope Swinney and company prove me wrong. You can look for this team to either repeat as champions with 10 wins or look terrible and have a repeat of the 2010 season with 6 or 7 wins.
comments
Related Posts