6Magazine Dope 25 College Football Previews: #15 Georgia Bulldogs
August 28, 2012
by: The QB, Cj Oates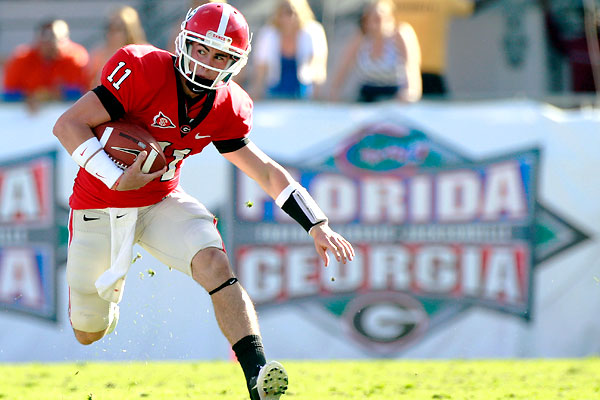 After starting last season 0-2, Coach Richt was on the hot seat pretty early. Surprisingly, the Bulldogs pulled it together, won 10 games in a row, went 7-1 in conference play, and even won the division. They were actually a half away from actually winning the SEC crown. After a season like that you would think that things could not get any better. Well, things certainly get a lot better. If I were a Georgia Bulldog fan, I would be making arrangements to be in Atlanta for the SEC Championship game again.
If you do not know who Aaron Murray is I am sure that SEC defensive coordinators know who the guy under center is. Murray threw for 3,149 yards and a school-record 35 touchdowns last season. The thing is last season was the first year in their no huddle offense which means this season should be even more scary. With those stats from last season it may be jaw dropping how productive the passing game will be. I know Murray does not have a "go to receiver" like Matthew Stafford had back in 2008 but look for success still. Regarding the running back position, expectations were high from my side of things with Isaiah Crowell returning. Of course Crowell makes a mistake so now Georgia's running game is over right? False. The Bulldogs were going to lean on Keith Marshall and Todd Gurley early this season regardless because that is how deep they are. Now that you are aware how deep the Bulldogs are at every skill position on offense you should also know that their weakness are at the offensive line. They have to replace three offensive linemen. To sum this up, if the line does not grow up fast, their offensive power will not mean a thing.
What will keep Georgia in the W column more than the L column will be their defense. It all starts with outside linebacker Jarvis Jones. You do not have no idea how happy Mark Richt and Todd Grantham feel bringing back 9 starters on defense. They all are elite players and their backups can step in and they will not even miss a beat. This Georgia front seven should be one of the best in the nation. The only problem this defense would have to be the secondary. They have to replace Boykins and I don't think they have found that guy yet. Not only that but Sanders Cummings (two games) and Barraci Rambo (four games) both have to serve suspensions. If the Bulldogs can survive the first few games amidst all those suspensions, they will have a veteran group that will be back at the top in national rankings.
Bulldogs avoid Alabama, Arkansas and LSU for a second straight season so Georgia is the clear favorite to win the East. Trips to Missouri (to start SEC play) and South Carolina will be the toughest tests of the year. They do have home trap games against Tennessee and Florida but I think they pass those tests barely. The Bulldogs have one of nation's best defense, a veteran quarterback who is probably rewriting the record book, and the easiest path to the SEC championship game. Don't look for them to stumble this season unless the offensive line disappoints early. If that does happen, Coach Richt will be on the "hot seat" once again. In all honesty though, the Bulldogs should once again end the season with 10 or more wins.
comments
Related Posts