Return to Glory? Not Yet for Notre Dame
September 20, 2012
by the Starting QB, Oates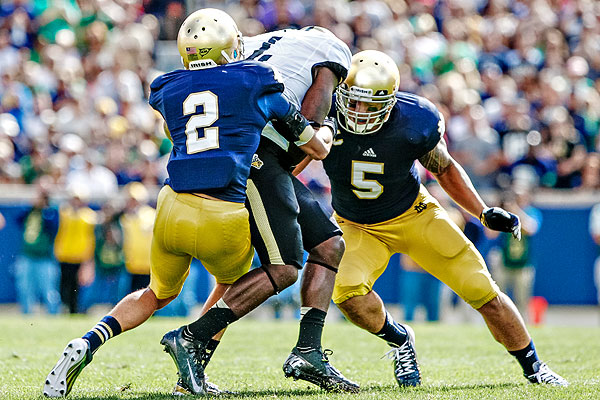 Here is a fun fact for you: When was the last time that Notre Dame football was 3-0? Well it was during the 2002 season in which they finished 10-3 under Tyrone Willingham. Fast forward back to the 2012 season, the Irishmen are currently undefeated after their first three games, which has caused quite a stir. They held a Navy triple option offense to just 10 points and they are coming off a victory against Michigan State, in East Lansing to snap their home winning streak. Chip Kelly and his offensive schemes have not lead this "resurgence", yet this onslaught is led by the defense. The Irish is in the top 10 in the nation in points given up per game (10 ppg) and their front seven, led by Manti Te'o, is as good as as Alabama's defense. Now that all of that is on the table let's get to the facts and why you can pump your breaks on your "Notre Dame is back" bandwagon.
Like it was aforementioned, Notre Dame is coming off what many considered an unlikely victory against a top ten Michigan State team on the road. Because of the fact that Notre Dame won on the road against a good Michigan State defense led by William Gholston and the Irish also stopped a pretty good running back in Le'Veon Bell. I guess we should proclaim them champions right? False. Michigan State was not going to be known for their offensive weapons coming into the season. The general idea was if you stopped Bell, then your team would beat Sparty because of the lack of experience. In the coming up weeks that is where the problem lays for the Irishmen. They still have to face teams that have multiple weapons on offense (Michigan, Stanford, Oklahoma, and USC) so I would not get too excited yet.
Speaking of experience, outside of Notre Dame's front 7, there are a lot of question marks that need to be answered. Their secondary has yet to hurt the team but when the passing teams like OU and USC are on the other side it will be interesting to see how that goes. Navy's receivers were toasting their defensive backs. So with this patchwork of a secondary that has players from other positions added to the fact they just lost their senior safety to an Achilles injury, this looks more and more vulnerable issue for Notre Dame. Zeke Motta becomes the only one among the four secondary starters who didn't get moved from the offensive side of the ball. The Notre Dame secondary, not against Michigan's Denard Robinson, will be challenged and I don't think they will get by when that time comes.
If you remember correctly though, Notre Dame beat a pretty good Michigan State team last season so to say they are back just yet would be too much. If you are an ND fan, just enjoy this moment before you go talking about a BCS bowl. The next notch on the belt for the Irishmen is avenging their 35-31 lost to Michigan last season. Can the defense as a whole continue to cover up the flaws of their secondary and hold Denard? Or will Denard have some magic left for the people in TV land since he let us all down during the 'Bama game? My dislike for Notre Dame wants me to go with the latter but I'm not sold on Michigan's defense getting the stops they need, so look for the craze of "ND football is back" to continue for another week.
Touchdown Jesus.
comments
Related Posts