Everlasting "Overrated" Coaches
October 10, 2012
by: CJ Oates, Starting QB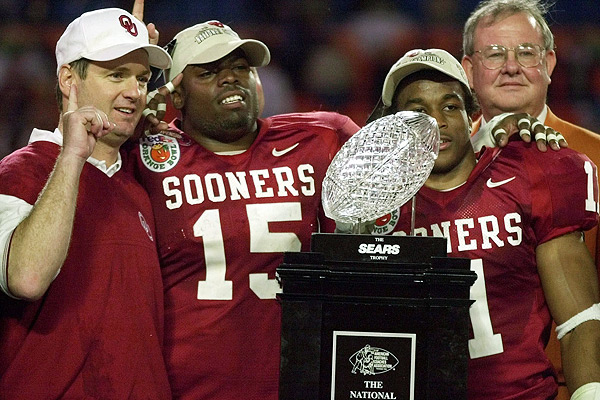 Overrated. Great. Fired. Winningest. These are just a few words thrown around when people talk about head coaches, Bob Stoops and Frank Beamer. Putting aside personal feelings for both coaches, a good question presents itself. The question is will Stoops or Beamer ever be fired by their respective schools (barring a Penn State scandal)? Looking at recent history, the answer is surely no.
I can understand the current "dislike" for these guys. Big Game Bob is 7-6 in bowl games. Four of those losses are all in BCS games, including two national championship games and a shocking loss to non-BCS Boise State. Beamerball has not even played for a national championship. Beamer is also 1-5 in BCS bowls. The Hokies have finished in the top ten just six times under Beamer—as many times as they've finished outside the Top 25.
Let me give a quick history lesson for both guys. Bob Stoops has been under the helm at Norman, Oklahoma since 1999. Stoops quickly turned the program around, winning seven games and taking the Sooners to their first bowl game in four years. In his second season, the Sooners would go undefeated and win the National Championship. Stoops penchant for winning the big games early in his career earned him the nickname "Big Game Bob". There was a point in time from 1999–2003, Oklahoma under Stoops was 18-2 (0.900) vs. ranked opponents, and 3-1 (0.750) in bowl games with one National Title.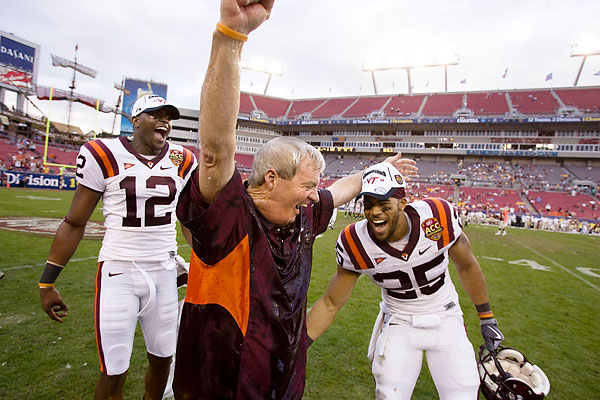 Frank Beamer has been in Blacksburg, Virginia since 1987. Beamer took over a Virginia Tech football program that was largely unsuccessful in its first century, having reached only six bowl games to that point. His teams have made 19 consecutive bowl appearances. In 25 years at the helm of VT, his overall record is 209–98–2 (.680), making him far and away the winningest coach in school history. During Beamer's tenure at Virginia Tech, the program has evolved from independent status to a member of the Big East Conference to a member of the Atlantic Coast Conference. His teams have won three Big East championships and four ACC titles.
As much heat as they get for not going undefeated every season, they are two of the best still doing it. I know over 100 athletic directors that will hire them in a heartbeat. Stoops has won 80 percent of his games in 14 seasons. Beamer has the Hokies at 9 consecutive season with at least 10 wins. The sad thing is for those athletic directors is they will not get a chance. Neither one of these guys are getting fired or leaving the program any time soon. Look for them to have the tenure of Joe Paterno (minus Sandusky). Maybe both can win a championship to remind their critics how elite they are compared to others.
comments
Related Posts