Ranking 2012-2013 College Bowl Games
December 13, 2012
by: CJ Oates, the Starting QB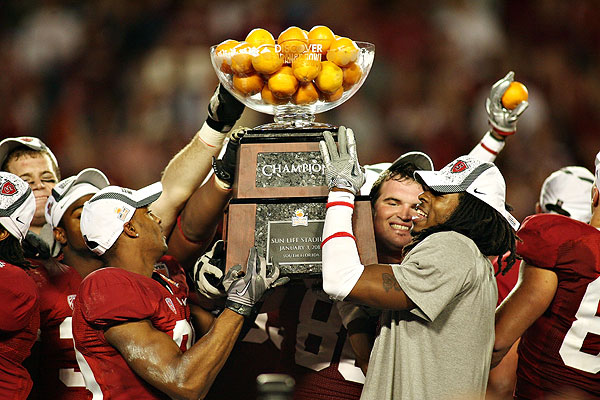 It is that time again that we all look forward to and I am not referring to Christmas. I am referring to college football bowl season. This season is a bit special because it is next to last season in which the BCS will dictate who is playing in championship game. There are a host of other bowls with great matchups and some players to watch so here is your College Football Bowl Season Guide.
35) Western Kentucky v. Central Michigan
So I'm happy for WKU don't get me wrong but it's the day after Christmas. If you have obligations, don't break your neck getting to a TV. As a matter of fact find something to do. Side note if you do watch, WKU has a great all-purpose guy (Antonio Andrews)
34) Air Force v. Rice
What happened to Sam McGuffie?
33) Central Florida v. Ball State
Is this where I am suppose to pretend like I care about this game? I mean this game is being played on 12/21/12 so clearly I will have other things on my mind like the world ending.
32) Purdue v. Oklahoma State
Wait, how did Purdue make a bowl? Didn't they fire their coach as well? Blowout
31) Minnesota v. Texas Tech
Yawn. Tubberville's gone. Minnesota cannot score. At least you'll be playing in Reliant Stadium.
30) Iowa State v. Tulsa
Deja vu? Na, we already got this game earlier this year and it was not close. WHY?
29) SMU v. Fresno State
I didn't know David Carr's brother Derek Carr played for them. Well he's coming back for his senior season so I'll wait til then to watch.
28) San Diego State v. Brigham Young
Don't know much but BYU usually gives us good bowl games and Cody Hoffman is good for an ESPN top play. Also SDSU's running back is rushing the ball well as he has over 1,300 yards on the season but BYU only allows 84 rushing yards a game.
27) Pitt v. Ole Miss
Outside of Ray Graham (which is why this game is listed this high) why are they playing so late in the bowl season?
26) Arizona State v. Navy
Another game that will be a running game against a defense that has a Defensive Player of the Year. Too bad the Sun Devils defense have allowed four of its final six opponents to rush for more than 200 yards. Navy should win easily and it's the Fight Hunger Bowl. A personal favorite.
25) Louisiana-Lafayette v. East Carolina
Both teams will be looking for win number 9 on the season. Defense is clearly optional in this game. If you love offense and no defense, this should be the game for you. Both average over 30 points a game and over 400 yards offensively. The defensive coordinators should not attend the game but rather enjoy "N'awlins."
24) Kent State v. Arkansas State
Almost BCS buster Kent State is not where they want to be but they cannot be mad at a 11 win season right now. Also this is their first bowl in over 40 years led by head coach Darrell Hazell. Arkansas State won seven straight after a rough start to win the Sun Belt Conference. Should be interesting to see two hot coaches play this out.
23) Duke v. Cincinnati
Come on, its Duke in a bowl game! You should be ready to see that they actually compete in another sport besides basketball.
22) San Jose State v. Bowling Green
It is great seeing both of these teams here. Both combined for three victories two years ago. SJSU finished 10-2, winning 10 games for the first time since 1987. It was a major turnaround from a 1-12 finish in '10. Might not sound sexy but they have some stout defenders, more specifically, defensive linemen.
21) Michigan State v. TCU
TCU has looked good down the stretch but for Michigan State, outside of Le'Von Bell, not so much. TCU picking up a win for the Big 12 would be nice but other than that there's not much reward for beating a team that struggling all season. At least it is sponsored by Buffalo Wild Wings.
20) Boise State v. Washington
So Boise State has quitely put together another 10 win season. They are looking to be a problem in whatever conference they decide to play in. On the other side, we at 6Mag are still waiting for Keith Price to play like he's got the juice.
19) Utah State v. Toledo
Another WAC vs MAC game that will be sure to have everyone entertained. Toledo's losses were all by a touchdown or less and Utah State's two losses came by a combined 5 points. Look for this game to go down to the wired as both schools are trying to complete their seasons for their schools.
18) Northwestern v. Mississippi State
Besides NW's QB (Kain Colter) and MSU's CB (Johnthan Banks) I couldn't tell you my interest in this game besides it is the first game of 2013. NW has a chance to get it's first bowl win since '49 with MSU struggling down the stretch.
17) Virginia Tech v. Rutgers
First non-10 win season for Beamer. They have to salvage this season with a win against Big East member Rutgers point blank. Maybe Logan Thomas will decide to show up. Remember when everyone thought this would be for the Orange Bowl pre-season?
16) Louisiana-Monroe v. Ohio
Remember all of the excitement that ULM brought earlier this season? Well it should be back in this game against the Bobcats. Ohio is struggling right now so look for the "favorites" ULM to pull it out at the end.
15) NC State v. Vanderbilt
Remember when NC State had hopes of winning the ACC? Yeah didn't workout. Remember when NC State tried to get James Franklin? Yeah didn't workout either. With a new era on the horizon, I don't see State winning this game. Plus it would be nice to see Franklin end the season with 9 wins with a team who had won just two games, two seasons ago.
14) Georgia v. Nebraska
Another game I don't believe the hype. There's no way Nebraska bounces back from that 31-70 Big 10 Championship game right?
13) USC v. Georgia Tech
Maybe not an appealing match up that everyone dreamed of but the match up is unique because of the contrasting styles. Hopefully for Barkley sakes, he can at least finish his senior campaign by just destroying the Jackets. I mean he deserves that since he did at least sit through all of those "Reggie Bush sanctions."
12) West Virginia v. Syracuse
Old Big East rivals. The question is how many scoreboards are they bringing in for this game? Big game for WVU though. Big 12 season didn't end to well and they should still have a bad taste in their mouth from what the Orange did to them last season (49-23).
11) Florida State v. Northern Illinois
Yeah everyone hates this match up but if NIU's Jordan Lynch pull of the upset will we hear crickets or excuses?
10) Nevada v. Arizona
Two of the best running backs (Ka'Deem Carey-UCLA, Stefphon Jefferson-Nevada) in the nation go head to head. This game will start the bowl season off quite nicely.
9) South Carolina v. Michigan
Don't think this is going to be a good game but I am just interesting to see how Denard is going to fair against an SEC defense against. Pretty positive he still has nightmares about that first game against 'Bama. He will surely have nightmares about Clowney. It will be interesting to see how Michigan's Devin Gardner start to look post-Denard.
Texas v. Oregon State
Roller coaster of a season for the shortHorns as they went from Championship aspirations to a beat down against OU, to getting hot again and now dropping two in a row. On contrast, Oregon State is having their best season in quite a while. It will make their season if they can get to 10 wins against Texas.
7) Wisconsin v. Stanford
Yes, Wisconsin should not be in this picture because they are the third best team in their division but they won their conference. The pressure is on Stanford to close this team out and show that smart guys don't finish last anymore.
6) Baylor v. UCLA
Should be a fun game to watch. Baylor's offensive weapons (Florence, Williams, and Seastrunk) against UCLA's defense that some of our guys here are enamored with. Big question is can Jim Mora get his team to bounce back from dropping two to Stanford. If he can, they will have 10 wins. Could it be safe to say, they are officially back?
5) Florida v. Louisville
Intriguing matchup now that Charlie Strong is staying. He is playing against his old team. How will Teddy Bridgewater end his 2012 season and start his 2013 Heisman talk against a non Big East defense?
4) Clemson v. LSU
Clemson gets a chance to redeem themselves from last season 14-70 debacle. Clemson has won 10 games this season it would be nice if they could get to 11 by beating an SEC school. Heck it will be good for the whole conference after they got embarrassed the last week of the regular season. If LSU wins they will be singing what if our special teams came to play against 'Bama?
3) Kansas State v. Oregon
If these two would've won out, this would be the BCS Championship game. At least we still get to see how Synder matches up against Chip Kelly's spread offense led by next year's star, Marcus Mariota.
2) Oklahoma v. Texas A&M
Maybe a bit bias but Landy Jones' last game, OU against former B12 member, former OU Coach, & 2012 Heisman Winner … are you wishing it was Jan 4th yet?
1) Alabama v. Notre Dame
Potential greatest BCS Championship ever?
comments
Related Posts