Numbers Don't Lie: Black Coaches
December 12, 2012
by: CJ Oates, Starting QB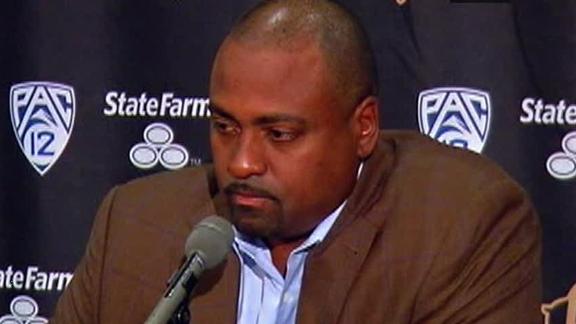 "We don't get second chances. We get bad jobs and no time to fix it." Those are words from ex-Colorado head coach, Jon Embree. This statement may seem alarming to some who feel that racism is not exsitent in college football but if you really believe that then you are just as guilty as participating in the system. Like all social systems, racism is difficult to change because it is complex and its roots run deep in America's history. Things do seem to be improving as the 2012 season saw 15 African-American head coaches at the FBS level compared to 2003, as there were four. So everything is getting better right?
Embree got the boot just after two season. Turner Gill got two years at Kansas who was awful before he got there. Joker Phillips got three years at a school who is basketball-first at Kentucky. Just one African American coach, Tyrone Willingham, has been given multiple shots to find success coaching an NCAA FBS football team. Willingham coached Stanford University, Notre Dame and then University of Washington. Prior to the start of this season, there were 17 coaches out of the 120 teams. If you are doing your math, that is just 14% of head coaches in FCS who are African-American. There is even a less amount of offensive/defensive coordinators (11%). Most of the time, head coaches are pulled from their coordinators job if a team wants a fresh face but if there is less amount of African-American OCs/DCs how can this percentage of African-American coaches ever increase?
There are currently African-American head coaches in four of the six BCS automatic-qualifying African-Americans made up 52 percent of student-athletes in major college football and have made up more than 39 percent since 1999. Yet, minorities have never held more than 17 percent of head coaching positions in the sport. There are currently African-American head coaches in four of the six BCS automatic-qualifying conferences, including two in the SEC. So why are African-American coaches so underrepresented? I wish I had an answer but it goes back to the "root" of that is how it has been. It was just 1979 (Willie Jeffries, Wichita State) when we had the first African-American to coach at a Division I-A (now FBS) University. Things do not even look better for people in athletic administrators positions either. There are 9 African-American athletic directors out of 120 and a more upsetting stat is there is ZERO African-American conference commissioners.
I am not here to say all of this is done on purpose but there is a subconscious level in some people's mind that having a White coach is better than hiring or keeping an African-American coach around. You can agree with this or not but as Jay-Z said, "numbers don't lie", well he is right and these numbers are sad. College football hiring practices out of sync with the numbers of athletic participants. If you graduate from an institution and you have the knowledge that will make you a successful coach, then why should you not be hired or given another chance? I know almost every AD at FBS schools in the country all think their coaching list have diversity. They probably do and 10-15 years ago, that probably was not the case.
As I end this tragic story of the head by saying this, Embree noted that his team may have struggled athletically, he "did things right" and actually focused on the "student" part of the term "student-athlete," boasting that players on his team had the highest GPA in the school's history. Sounds familiar? Former University of Miami football coach Randy Shannon had the third-best Academic Progress Rate in NCAA Division I FBS. Not only that but in his 4 seasons there he only had one season in which he was not over .500 winning percentage. The school who was known for off the field trouble, only had one player was arrested under his watch, compared to 30 arrests in years prior. Yet, neither of these guys have a head coaching job but Bobby Petrino, who was dismissed in the spring of 2012 for not disclosing an "inappropriate relationship" with a female employee, is employed again.
comments
Related Posts